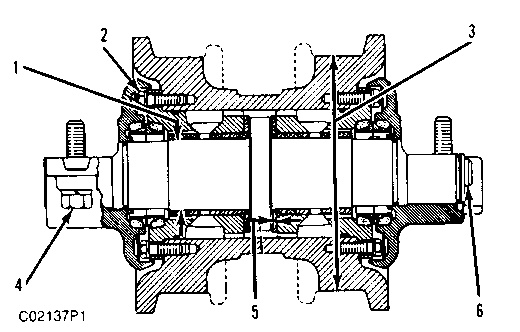 (1) Diameter of shaft … 63.00 ± 0.03 mm (2.480 ± .001 in)
(2) Torque for bolts … 55 ± 7 N·m (41 ± 5 lb ft)
(3) Diameter of roller tread (new) … 209.5 ± 0.25 mm (8.25 ± .010 in)
Minimum permissible roller tread diameter … 187.2 mm (7.37 in)
(4) Torque for 5/8 in. bolts … 300 ± 25 N·m (225 ± 20 lb ft)
Torque for 3/4 in. bolts … 475 ± 50 N·m (350 ± 37 lb ft)
(5) End play (clearance) of the roller shaft:
(Minimum) … 0.28 mm (.011 in)
(Maximum) … 0.92 mm (.036 in)
(6) Torque for plug … 170 ± 20 N·m (125 ± 15 lb ft)
NOTE: Rubber toric seals and all surface in contact with them must be clean and dry at assembly. Put a thin layer of oil on the surfaces of the metal seals that are in contact just before installation. Put lubricant on all other seals at assembly.