Remove Valve Cover
1. Remove the hood, muffler, precleaner assembly and air cleaner assembly.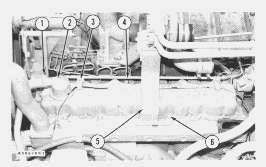 2. Remove bolts (6) and bracket (5).
3. Loosen clamps (1) and remove breather group (2) from the valve cover.
NOTE: Later machines have direct injection engines and do not have glow plugs.
4. Remove three bolts (3) that hold the clips, wire harness for the glow plugs and the water temperature sending unit line to the valve cover. Remove glow plug wire harness (4).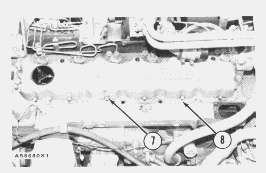 5. Remove bolts (7) and valve cover (8). Remove the gasket from the valve cover.
Install Valve Cover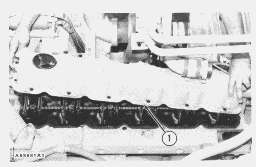 1. Put 5H2471 Cement on the face of valve cover (1) and the top side of the valve cover gasket. Put the valve cover in position on the cylinder head. Install the fifteen bolts that hold it. Tighten the bolts in number sequence to a torque of 96 ± 24 lb.in. (10.8 ± 2.7 N·m).
2. Connect the wire harness to the glow plugs. Put the wire harness in position in the valve cover and install the three bolts and three clips.
3. Put the water temperature sending unit line in position on the valve cover and bend the clips over the wire.
4. Install the breather group in the valve cover. Tighten the bolt in the breather group to a torque of 120 ± 24 lb.in. (13.6 ± 2.7 N·m). Tighten the hose clamps on the breather group.

5. Install the bracket for the hydraulic lines.
6. Install the air cleaner assembly, precleaner assembly, muffler and hood.