Remove Spacer Plate
START BY:
a) remove cylinder head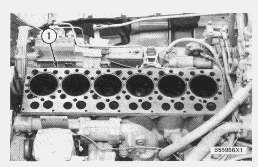 1. Remove spacer plate (1).
2. Remove the O-ring seal from the hollow dowel. Remove the spacer plate gasket from the cylinder block.
Install Spacer Place
1. Thoroughly clean the spacer plate and cylinder block surface.
2. Install a new spacer plate gasket (3) on the cylinder block. Install new O-ring seal (2) on the hollow dowel.
---
NOTICE
Both surfaces of spacer plate, top of cylinder block and both sides of the spacer plate gasket must be clean and dry. Do not use any gasket adhesives or other substances on these surfaces.

---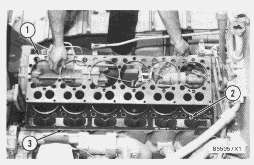 3. Install spacer plate (1) on the cylinder block.
4. Check cylinder liner projection. See INSTALL CYLINDER LINERS.
END BY:
a) install cylinder head