Remove Crankshaft Rear Seal And Wear Sleeve

START BY:
a) remove flywheel
NOTE: The crankshaft rear seal and wear sleeve can be removed or installed in chassis.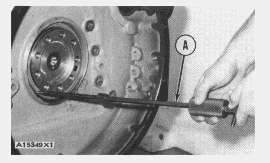 1. Use tool (A) to remove the crankshaft rear seal.
2. Install tool (C) in the rear seal bore.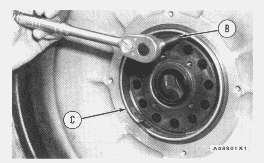 3. Install tool (B) between tool (C) and the wear sleeve. Turn tool (B) until the ends of the tool makes a flat piece (crease) in the wear sleeve. Do this in two or more places until the wear sleeve is loose.
4. Remove tool (C) and the wear sleeve by hand.
Install Crankscase Rear Seal And Wear Sleeve

NOTE: The seal (earlier) and and wear sleeve for direct drive (earlier) and power shift machines are installed with the same tooling. The direct drive (earlier) machine has a single lip type seal and the power shift (earlier) has a double lip type seal. Make sure the single lip type seal for direct drive earlier) machines is installed with the lip toward the inside of the engine. The seal and wear sleeve for either machines must be installed together.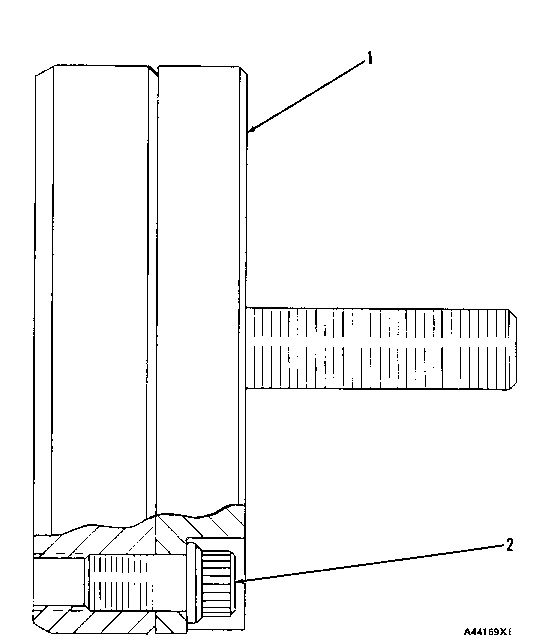 1. Put locator (1) from tooling (A) in position on the crankshaft and install three bolts (2) that hold it in place.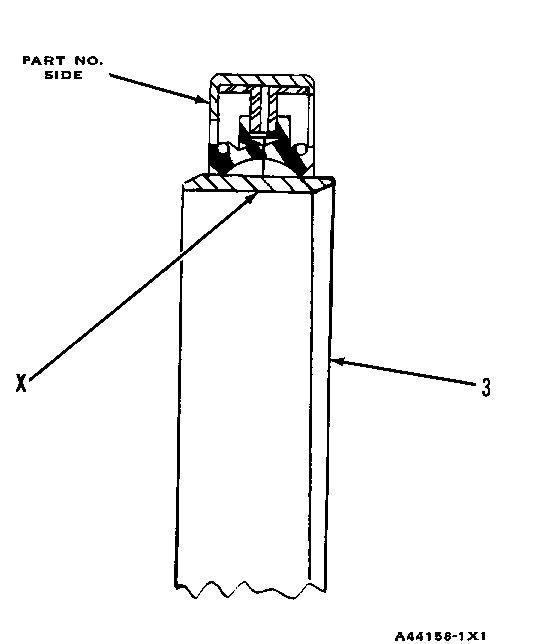 2. Put clean engine oil on the seal lip and on the outside diameter of wear sleeve (3). Install the seal on the wear sleeve with the side of the seal that has the part no. toward the side of the wear sleeve that has the chamfer on the outside diameter as shown.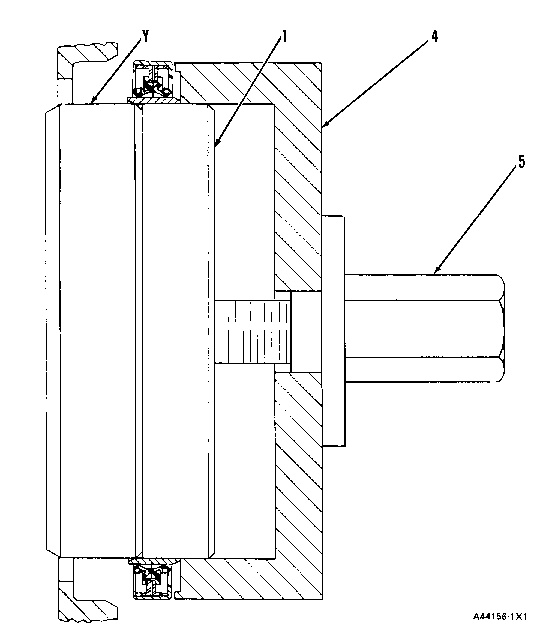 3. Use 6V1541 Quick Cure Primer to remove any oil from inside diameter "X" of the wear sleeve and surface "Y" of the crankshaft. Make an application of 9S3265 Retaining Compound to surfaces "X" and "Y".
4. Put the wear sleeve and seal on locator (1) as shown with the part no. on the seal out. Put installer (4) and nut (5) on the locator as shown. Put lubricant between the installer and nut.
5. Use tooling (A) to push the wear sleeve and seal on to the crankshaft until the installer is against the locator. The wear sleeve and seal will the be in the correct location. The wear sleeve will be .31 in. (7.9 mm) from the end of the crankshaft and the seal will be .38 in. (9.7 mm) from the end of the crankshaft.
6. Remove tooling (A).
END BY:
a) install flywheel