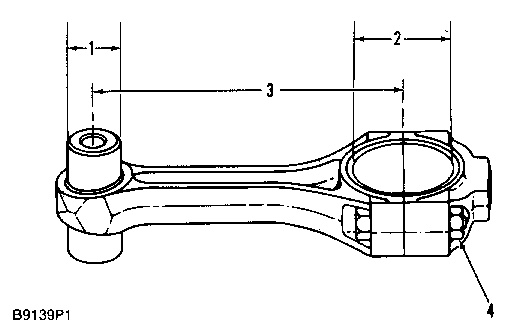 (1) Bore in bearing for piston pin (new) … 43.2105 ± 0.0076 mm (1.70120 ± .0003 in)
Diameter of piston pin (new) … 43.175 ± 0.005 mm (1.6998 ± .0002 in)
Maximum permissible clearance between bearing and piston pin (worn) … 0.08 mm (.003 in)
(2) Bore in connecting rod for bearing … 82.550 ± 0.013 mm (3.2500 ± .0005 in)
(3) Distance between center of piston pin and center of crankshaft bearing (new) … 243.71 ± 0.03 mm (9.595 ± .001 in)
(4) Torque on nut for connecting rod:
a. Put 2P2506 Thread Lubricant on threads and nut seat.
b. Tighten both nuts to … 41 ± 4 N·m (30 ± 3 lb ft)
c. Mark each nut and end of bolt.
d. Tighten both nuts (from mark) … 90 ± 5°
Install the connecting rod in the piston with the slot for the bearing tab on the same side as the "V" mark on the piston.
Make reference to Special Instructions, Form No. GMG02394 and SMHS7366 for information about checking and reconditioning connecting rods. Also see Guideline For Reusable Parts; Salvage of Non-Serrated Connecting Rods, Form No. SEBF8064.