Remove Camshaft
START BY:
a) remove valve lifters
b) remove timing gear cover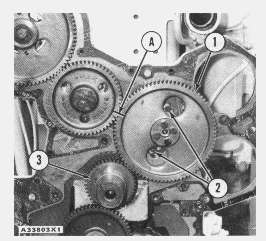 1. Turn the crankshaft until the "C" mark on the crankshaft gear (2) is in alignment with the "C" mark on camshaft gear (1).
2. Put a mark on the teeth of the idler gear and camshaft gear at location (A). The timing of the fuel injection pump will be correct if the gear teeth have identification marks.
3. Remove camshaft bolts (3), the lock and thrust washer.
4. Pull the camshaft out of the cylinder block.
---
NOTICE
Do not cause damage to the lobes or bearing journals when the camshaft is removed.

---
5. Remove the bolts that hold the camshaft gear to the camshaft. Remove the gear.
Install Camshaft
1. Put the camshaft drive gear in position on the end of the shaft.
NOTE: The drive gear will fit on the camshaft one way only.
2. Install the bolts that hold the drive gear in position.
3. Put clean SAE 30 oil on the bearing journals of the camshaft.
4. Put 2P2506 Lubricant on the camshaft lobes and face of the lifters.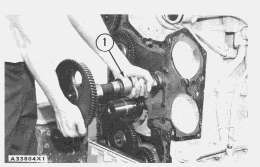 5. Install camshaft (1) in the cylinder block.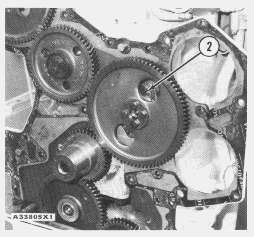 6. Install the thrust washer, locks and bolts (2) that hold the camshaft in the cylinder block.
7. Check the timing of the engine. See Checking Timing By Timing Pin Method in Testing And Adjusting.
END BY:
a) install timing gear cover
b) install valve lifters