Remove Fuel Transfer Pump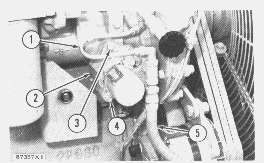 Typical Example
1. Remove line (1). Disconnect line (5). Remove bolts (4) that hold service meter to the fuel transfer pump. Remove service meter. Remove bolts (3) that hold fuel transfer pump (2) to accessory drive shaft housing. Remove fuel transfer pump (2).
Install Fuel Transfer Pump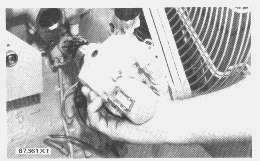 Typical Example
1. Install service meter and bolts on the fuel transfer pump. Put fuel transfer pump in position on the accessory drive shaft housing and install the bolts that hold it.
2. Connect fuel priming pump and fuel transfer pump lines.
Disassemble Fuel Transfer Pump

START BY:
a) remove fuel transfer pump
1. Remove pressure relief plunger.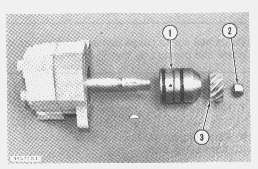 2. Remove nut (2), gear (3) and key.
3. Remove the cage (1).
4. Remove the O-ring seals from the cage.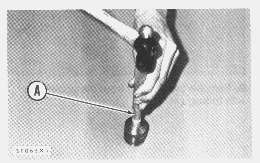 5. Remove the bearing and seals from the cage with tooling (A).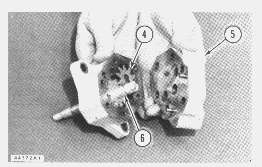 6. Remove cover (5).
---
NOTICE
Be careful not to cause damage to surfaces of cover and pump body that fit together.

---
7. Remove the seal from the cover.
8. Remove gear (4) and the gear and shaft (6) from pump body.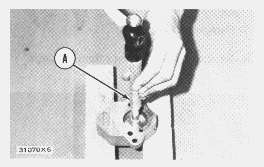 9. Remove the bearing from the pump body with tooling (A).
Assemble Fuel Transfer Pump

1. Clean all parts before assembling pump.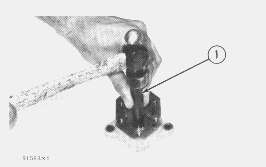 2. Install the bearing in pump body with driver (1) from tool group (A).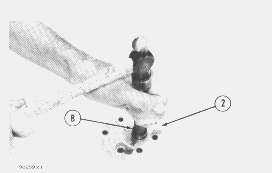 3. Install the seal with the spring loaded lip toward the inside of the pump. Install seal in cover (2) with tooling (B). The seal must be installed 11.430 mm (.450 in.) in from the outer surface.
4. Put the gear and shaft in position in the body.
5. Put a small amount of Permatex Aviation Form-A-Gasket No. 3 on the surface of the pump body.
---
NOTICE
Do not let Permatex enter the pump.

---
6. Install cover on pump body.
NOTE: After tightening bolts in the cover the gear and shaft must turn freely.
7. Install bearing in cage with the driver from tool group (A).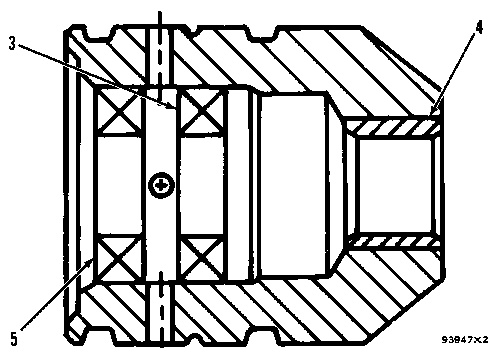 8. Install seals (3) and (5) in the cage with tool (B). Seal (3) must be 14.732 mm (.580 in.) in from the surface and lip of seal must be toward the bushing end of the cage. Seal (5) must be 3.048 mm (.120 in.) in from the surface and lip of seal must be toward the pump gears.
9. Install the O-ring seals on the cage.
10. Put clean SAE 30 engine oil on seals.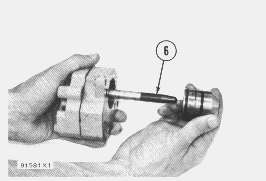 11. Install seal installer (6) from tool group (A) on the shaft.
12. Install the cage over the seal installer and on to the shaft.
13. Remove the seal installer and install key, gear and nut. Tighten nut to a torque of 30 ± 7 N·m (22 ± 5lb.ft.).
14. Install pressure relief plunger, spring bolt and gasket. Tighten the bolt to a torque of 37 ± 4 N·m (27 ± 3 lb.ft.).
END BY:
a) install fuel transfe rpump