Remove And Install Fuel Priming Pump And Base
---
NOTICE
Keep all parts clean from contaminants. Contaminants put into the system may cause rapid wear and shortened component life.

---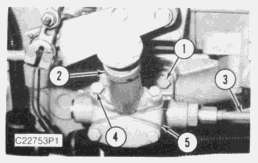 1. Turn the fuel supply line valve to the "off" position.
2. Remove bolts (4), fuel priming pump (2), and the gasket.
3. Remove tube assembly (3).
4. Remove two bolts (1) and pump base (5).
NOTE: Install in reverse order.